Skyline Building Systems Inc.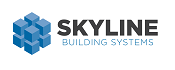 Skyline Building Systems Inc.
Categories
Florida Georgia Guam Hawaii Idaho Illinois Indiana Iowa Kansas Kentucky Louisiana Maine Marshall Islands Maryland Massachusetts Michigan Minnesota Mississippi North Dakota Ohio Oklahoma Oregon Palau Pennsylvania Puerto Rico Rhode Island South Carolina Armed Forces Pacific California Colorado Nevada New Hampshire New Jersey New Mexico New York Vermont Virgin Islands Virginia Washington West Virginia Wisconsin Wyoming Alberta British Columbia Manitoba New Brunswick Newfoundland Northwest Territories Nova Scotia Nunavut Ontario Prince Edward Island Quebec Saskatchewan Yukon Territory Connecticut Delaware District of Columbia South Dakota Tennessee Texas Utah North Carolina Missouri Montana Nebraska Alabama Alaska American Samoa Arizona Arkansas Armed Forces Africa Roofing Systems Roofing Membranes Flooring Finishing, Interior & Exterior Sealants, Roofing
Associate Materials
About
Proudly supplying our proven Roofing Series PVC roof systems, Dec-Tec decking systems, and alternate roofing membrane systems, we are your modular roofing specialists! Our strategic distribution locations and partnerships allow us to provide cut to size material in a timely manner. Our goal is to ensure we provide quality products, technical support with exceptional customer service at a price point that is fair and competitive. With well over 2 decades of modular industry experience, we look forward to providing you with solutions and innovative ideas that are outside of the box!
Contacts
Primary
Dustin Olson
General Manager
Alabama
Alaska
American Samoa
Arizona
Arkansas
Armed Forces Africa
Armed Forces Pacific
California
Colorado
Connecticut
Delaware
District of Columbia
Florida
Georgia
Guam
Hawaii
Idaho
Illinois
Indiana
Iowa
Kansas
Kentucky
Louisiana
Maine
Marshall Islands
Maryland
Massachusetts
Michigan
Minnesota
Mississippi
Missouri
Montana
Nebraska
Nevada
New Hampshire
New Jersey
New Mexico
New York
North Carolina
North Dakota
Ohio
Oklahoma
Oregon
Palau
Pennsylvania
Puerto Rico
Rhode Island
South Carolina
South Dakota
Tennessee
Texas
Utah
Vermont
Virgin Islands
Virginia
Washington
West Virginia
Wisconsin
Wyoming
Alberta
British Columbia
Manitoba
New Brunswick
Newfoundland
Northwest Territories
Nova Scotia
Nunavut
Ontario
Prince Edward Island
Quebec
Saskatchewan
Yukon Territory
Mexico
Caribbean
Central America
South America
Europe
Northern Africa
Southern Africa
Middle East
Central Asia
South Asia
East Africa
Southeast Asia
Oceania
Arctic
Antarctica
Australia