Simpson Strong Tie Co., Inc.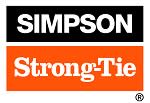 Simpson Strong Tie Co., Inc.
Categories
Kansas Kentucky Louisiana Maine Marshall Islands Maryland Massachusetts Michigan Minnesota Mississippi Missouri Montana Nebraska Alabama North Dakota Ohio Oklahoma Oregon Palau Pennsylvania Puerto Rico Rhode Island South Carolina South Dakota Tennessee Texas Utah Vermont Virgin Islands Virginia Washington West Virginia Wisconsin New Hampshire New Jersey New Mexico New York New Brunswick Newfoundland Northwest Territories Nova Scotia Nunavut Ontario Prince Edward Island Quebec Saskatchewan Yukon Territory Mexico Caribbean Central America South America Europe Middle East Connecticut Delaware District of Columbia Florida Georgia Guam Hawaii Idaho Illinois Indiana Iowa Wyoming Alberta British Columbia Manitoba North Carolina Alaska American Samoa Arizona Arkansas Armed Forces Africa Armed Forces Pacific California Colorado Nevada Services Nails, Screws, Nuts, & Bolts Foundations Finishing, Interior & Exterior Fastening Systems Fasteners Design & Engineering Connector Plates Anchors Adhesives
Associate Materials
About
For more than 55 years, Simpson Strong-Tie has focused on creating structural products that help people build safer and stronger homes and buildings. Considered a leader in structural systems research, testing and innovation, Simpson Strong-Tie works closely with industry professionals to provide code-listed, field-tested products and value-engineered solutions. Its structural products are recognized for helping structures resist high winds, hurricanes and seismic forces. The company's extensive product offering includes connectors, fasteners, fastening systems, lateral-force resisting systems, anchors and products that repair, protect and strengthen concrete. From product development and testing to training and engineering and field support, Simpson Strong-Tie is committed to helping customers succeed.
Cold-Formed Steel Construction
For two decades, Simpson Strong-Tie has supplied connectors, fasteners and shear walls to the cold-formed steel residential, mid-rise and commercial markets. Our commitment to serving the cold-formed steel industry was reinforced in 2011 with the launch of our line of slide-clip and fixed-clip connectors for curtain-wall construction. These clips have been designed and field tested with the installer in mind, and provide a complete design solution with load values for the connector and its anchorage to the structure.
For more information about Simpson Strong-Tie and our complete line of products, visit the company's website at www.strongtie.com.
Contacts
Michelle Delgado
Media Planner