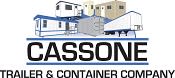 Cassone Leasing, Inc.
Categories
Delaware Maine Massachusetts New Jersey New York Pennsylvania Rhode Island Vermont Connecticut Single-story Security Retail or Hospitality Rent Permanent Over 10,000 square feet Outright Purchase Operating Lease Multi-Story Lease-to-Purchase Institutional or Assembly Healthcare General Office Financial Institution Finance Lease Finance Equipment/Storage Education Construction Site Offices Building 5,000 to 10,000 square feet 5,000 square feet or less Temporary
Dealer/Fleet Owner
About
Cassone Leasing Inc is a certified Women-Owned Business Enterprise (WBE), Disadvantaged Business Enterprise (DBE) and a family-operated business founded in 1976.

We are an experienced, award winning team of modular building professionals who
can create a custom design with a cost-effective and efficient approach for all of our permanent and temporary modular building projects. Our buildings can range in size and scope from small single units to multi-story complexes. Our knowledgeable staff will provide step by step support throughout the entire project to guarantee its success.

We have a full line of standard ground level storage containers, custom ground level office containers, stackable office and storage containers, office trailers, field office trailers, security booths, construction equipment, office furniture and storage trailers for sale or for rent in New York, New Jersey and Connecticut.

Purchase, lease and financing options are available.

As a committed, hands-on family company, we strive to ensure that each and every project exceeds the satisfaction of our customers.
Contacts
Primary
Executive Vice President
Connecticut
New Jersey
New York
Delaware
District of Columbia
Florida
Georgia
Maine
Maryland
Massachusetts
North Carolina
Ohio
Pennsylvania
Rhode Island
South Carolina
Vermont
Virginia
Stephanie Mcnamara
Marketing