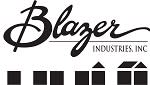 Blazer Industries, Inc.
Categories
Idaho Montana Nevada New Mexico North Dakota Washington Oregon Texas Utah Alaska Arizona Armed Forces Pacific California Colorado Hawaii Permanent Over 10,000 square feet Outright Purchase Multi-Story Institutional or Assembly Healthcare General Office Financial Institution Finance Equipment/Storage Education Construction Site Offices Building Bathroom Pods 5,000 to 10,000 square feet 5,000 square feet or less Temporary Single-story Security Retail or Hospitality
Manufacturer/Wholesale
About
Blazer Industries, Inc. is a wholesale modular building manufacturer located in the Pacific Northwest. We working with leasing and sales companies to provide creative solutions and high quality buildings for a variety of uses including office, medical, educational, restrooms and more.
Contacts
Primary
President
Alaska
Arizona
California
Colorado
Florida
Hawaii
Idaho
Montana
Nevada
North Dakota
Oregon
Utah
Washington
Alberta
British Columbia
Northwest Territories