Ames Research Laboratories, Inc.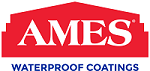 Ames Research Laboratories, Inc.
Categories
Louisiana Maine Marshall Islands Maryland Massachusetts Michigan Minnesota Mississippi Missouri Montana Nebraska Alabama Alaska North Dakota Ohio Oklahoma Oregon Palau Pennsylvania Puerto Rico New Jersey New Mexico New York Texas Utah Vermont Virgin Islands Virginia Washington West Virginia Wisconsin Wyoming Alberta British Columbia Manitoba Ontario Mexico Caribbean Connecticut Delaware District of Columbia Florida Georgia Guam Hawaii Idaho Illinois Indiana Iowa Kansas Kentucky Rhode Island South Carolina South Dakota Tennessee North Carolina American Samoa Arizona Arkansas Armed Forces Africa Armed Forces Pacific California Colorado Nevada New Hampshire Caulk Thermal & Moisture Protection Sealants, Thermal & Moisture Sealants, Roofing Roofing Systems Roofing Paint Moisture Barriers Membranes Fluid-Applied Finishing, Interior & Exterior
Associate Materials
About
Ames Research Laboratories, Inc. is a global manufacturer of rubberized elastomeric waterproof coatings that protect roofs, basements, foundations, decks and more. AMES is a woman owned, privately held business founded by a United States veteran. AMES is proud to say our coatings are manufactured in the USA.
Ames Waterproof Coatings is a female owned, veteran founded leading global manufacturer of waterproof coatings and sealants designed to protect & renew roofs, basements, foundations, decks & more. Our products are made in the USA, low odor, low VOC, water clean-up and manufactured to meet strict ISO-9000 quality standards. Ames Blue Max Original Blue is Air Barrier certified and Blue Max Tile & Floor is a waterproofing and crack prevention membrane that is UPC listed for use as a shower pan liner.